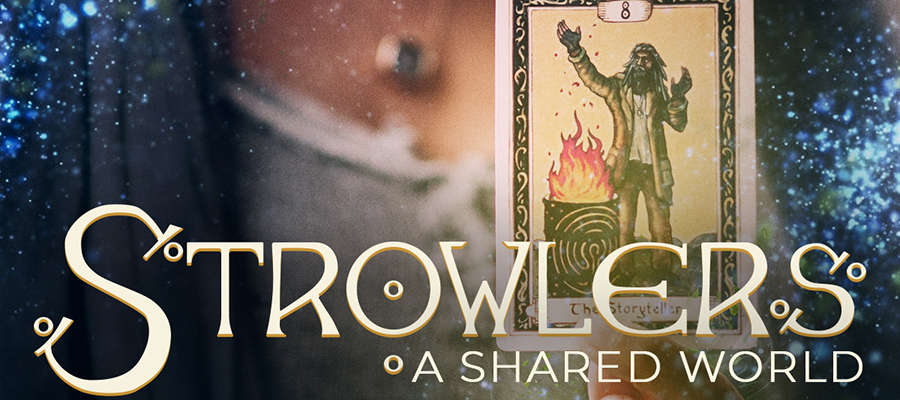 Seattle, WA: Zombie Orpheus Entertainment (ZOE), the production company behind cult-classic genre shows such as JourneyQuest and The Gamers, is launching an award-winning urban fantasy television show and shared universe, Strowlers. Unlike many closed cinematic universes (like Marvel or Star Wars), the Strowlers Shared Cinematic Universe is released under a copyright alternative that allows commercial derivatives, so anyone can tell stories within the Strowlerverse.
In Strowlers, magic has returned to the modern world and nothing will be the same again. In response to this new threat, the United States Department of Arcanology has mandated that government magic users collar and train anyone with Talent…but on the fringes of society, the Strowlers believe that magic is for everyone. From Mongolia to Ireland, the resistance begins.
Strowlers is available now and streaming worldwide on The Fantasy Network, on Amazon Prime in the US and UK, on Vimeo On Demand worldwide, and is coming soon to iTunes.
EPISODE INFORMATION
PILOT (Seattle, USA) — When Whit's favorite fantasy book explodes into reality—summoning government forces intent on repressing all non-sanctioned magic—she is thrust into a world where underground magic users fight for their right to exist, where children with powers are torn from their families, and where her girlfriend's research threatens to throw the entire system into chaos.
THE TRAVELER (West Cork, Ireland) — Pepper Jones, secret agent, returns to Ireland after sixty years to complete her mission and stop a supernatural invasion from threatening the modern world…but the past isn't ready to let go. Now, ancient fairy tales and folklore hold the key to a generational mystery.
THE BOX (Ulaanbaatar, Mongolia) — After encountering an Ancestor Tree during a hike with her friends, Amaajii's plans to attend medical school in Australia are disrupted as dreams and visions from her ancestors send her on a quest for an old family heirloom. Written by Mongolian shamans, this urban fantasy explores the world of the Ulaanbaatar Strowlers.
Strowlers showrunner, Ben Dobyns, says representation is a crucial element of the series. "While the pilot is about rescuing a child with unregistered magical talent, the perspective that the protagonist's life has given her — as a queer woman of color — affects how she chooses to help a child in need, as well as her interactions with the institutional forces that seek to control the lives of everyday people."
Strowlers is produced under ZOE's unique Fan Supported and Creator Distributed model, where fans are empowered to renew the show. ZOE has raised millions in crowdfunding dollars for other series that it produces and looks forward to creating many more seasons of Strowlers thanks to the support of a passionate worldwide fan base.
Rather than using traditional copyright restrictions, Strowlers is released under the Shared Cinematic Universe License Agreement (SCULA), a human-readable license similar to Creative Commons and the Open Gaming License. Under the terms of this license fans and professionals are freely granted the rights to create and sell their own Strowlers stories, games, art, and other derivatives.
In addition to the first three episodes, ZOE has also released a world bible with everything that creators need to tell their own stories within the Strowlerverse. The PDF is available at www.drivethrurpg.com. A second printing of the book is in progress after the first printing quickly sold out. A collaborative wiki is also available and a serialized novel begins release shortly on several platforms.
A recipient of the 2015 Washington Filmworks Innovation Lab, Strowlers has since been honored with awards from Gencon (Best Series), Stareable Fest (Best Drama), Vancouver Web Fest (Best Visual Effects), and Origins Film Festival (Best Fantasy Film). It stars Tanesha Ross (Hair – Off Broadway), Trin Miller (Captain Fantastic, The Gamers) and Lisa Coronado (Twin Peaks, Z Nation) and is co-directed by Dobyns and Gabriel Gonda (Dark Dungeons).
Strowlers is a shared cinematic universe to which everyone is invited. Create fan fiction. Sell novels. Crowdfund and produce your own movies. Make art. Sing songs. Design games. Construct killer steampunk robots. It's your choice! Tell your story. Change the world.
Zombie Orpheus Entertainment (ZOE) was founded in 2010 with a mission to empower fans to support and renew the shows that they love. The company has since raised millions on Kickstarter for three ongoing series and several feature films. ZOE is based in Washington State.
The Fantasy Network is a creator-owned subscription video-on-demand (SVOD) service with ITV apps available on iOS, Apple TV, Android, Android TV, Roku, Amazon Fire, and ChromeTV. It is owned by ZOE, Arrowstorm Entertainment (The CW's The Outpost), and The Forge Studios (The Rangers).